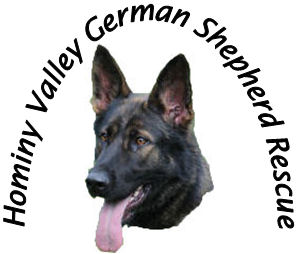 ---
Foster Homes

In the animal rescue business, foster homes are a critical resource, providing a loving, temporary shelter for dogs in need, and giving us the opportunity to learn more about the animal in a home environment and therefore place it in the most appropriate permanent home.
In order to maintain our rescue work, Hominy Valley German Shepherd Rescue needs caring foster families to provide a German shepherd dog a temporary home while we find it a great forever home.
There are many perks to being a foster home for a dog in need:
* By fostering you will be helping to save more animals' lives in our community.
* By fostering you will be helping to restore a homeless animal's faith in human beings.
* By fostering you will be helping us learn more about an animal's personality so we can find the best human match
* By fostering you will be able to provide consistent training, thereby making the animal more adoptable Please complete the Foster Home Application by clicking the button at the top of this page, if you would like to open up your home to one of our dogs, or email us if you have questions about fostering that are not covered on this page.
---
How to Foster

Fostering a dog in need of shelter, love, and guidance is a time-consuming effort, but it's also one of the most rewarding ways to help homeless pets. Providing a "stepping stone" for animals in search of permanent homes saves lives, alleviates the strain on animal shelters, helps set the stage for successful adoptions, and teaches you the skills that will enable you to help other animals in need.
Foster care consists of providing a safe, loving, temporary home for a dog until a permanent adoptive home can be found. All dogs are screened for health and temperament before entering our program. We can only rescue as many dogs as we have foster homes! If you are thinking of fostering, check out Becoming a Foster Parent: Are You Ready?, which has a number of things for you to think about before you 'jump in.'
We provide the veterinary care, food, and supplies. You provide the safe home, training, and love. The dog, in turn, provides you with love, joy, and the satisfaction of knowing you have helped saved a life.
The time involved can range from one to several months.

Foster home responsibilities:
1. Provide temporary home for the dog.
2. Be patient. Understand that the dogs are rescue dogs and their behavior can be unpredictable. Be prepared for some adjustment in the beginning. It can be stressful for both you and the dog to be in a new situation.
3. Be willing to foster your dog from initial rescue to adoption. The amount of time needed to find a permanent home for a dog can vary from weeks to months.
4. If you are working full time, provide a safe place for the dog to be while you are gone. If the dog will be outside while you are away, be sure to provide a shelter for the dog to retreat to during stormy or hot weather. A fence of at least 6 feet is recommended to prevent a dog from jumping over. If the dog is to remain indoors, we highly recommend either crate training or using a baby gate to limit the dog to a specific dog-proof area of your home. The reasoning behind this is to keep both the dog and your home safe and secure.
5. Provide weekly updates, so we can keep your foster dog's listing current. Details about what they've learned or the adorable things they do often makes the difference in the time it takes to get them adopted into the right forever family.
6. Notify us immediately in the event the dog is sick or lost. Take the dog to medical appointments as needed and to any "meet and greet" events if scheduled. Also, be available to meet with potential new adopters when their applications are approved.
7. Notify us at least three weeks before you are going on vacation so we can provide another home for your dog to go to. Taking your foster dog with you is allowable, but you must receive our permission first.
8. Treat the dog as a member of your family.

Adoption Time
Certain requirements must be met by all potential adopters before they are allowed to meet a dog. All adopted dogs must have adoption papers filled out, signed, and the adoption fee paid before they can go home with an adopter.
We welcome foster homes that work to find permanent homes for their foster dogs. We ask that foster homes be willing to foster at least one dog before adopting one. We do understand that parting with the first dog is the hardest, but the rewards for saving lives is beyond measure.

Why Foster?
So what drives people to take an unknown animal into their home, having to establish a new routine and knowing they're going to get attached and then have to say goodbye? The primary reason is of course a deep love of animals and the knowledge that this is something very tangible you can do to help reduce the thousands of animals that are senselessly destroyed each year. Witnessing a transformation as the animal emerges from the stress of its previous ordeal and its true personality begins to shine through: a real miracle to see. You have to focus on the end result. The opportunity to live in a home before the dog is permanently placed is such an enormous advantage for a rescue animal.
But how do you say goodbye to this animal who has wriggled its way inevitably into your heart? "It's hard: Many of us shed tears every time one of our fosters gets adopted. But we know they're going to a great home and try to remember that by letting them go, we create a space that enables us to rescue another animal."
And sometimes the personal benefits are quite as profound as the benefits to the animals. If you feel you need to do something that will give life more meaning, or feel the need to do something that will make the world a better place... If you think you may be able to offer a temporary refuge for a rescued animal, please contact us today!

Thank you to all our foster families: you are extremely important - to SOS and the German shepherd dogs that need you!
---
What is Involved in Being a Foster Home?

A few good dogs...need you to foster! Most of the German shepherds we pull from shelters have not been taken care of emotionally or physically, but the most common reason that they have ended up in shelters is that their people simply didn't care enough; did not care enough to properly ensure their safety with fencing, to ensure that they had ID tags or were microchipped in case they got lost; did not care enough to protect them from preventable illness; did not care enough to provide the structure and training to avoid behavioral problems; did not care enough to simply bring them in the house, talk to them occasionally and tell them that they were loved.
These are wonderful dogs, despite the shape they may be in when we first get them in, and they need TLC. Our foster homes provide a safe place for these unloved dogs to learn what it is like to be safe, well-fed, and loved.
We are hoping to recruit qualified foster homes to help us teach these dogs that its okay to love again, to trust again .... to learn to just be good canine citizens. In addition to providing the all-important TLC, we also ask that our foster families help brush up the skills that make a dog more adoptable - house manners and learning to walk on a lead, taking treats gently, etc.
More information is available in our Frequently Asked Questions About Fostering A GSD, below.
---
Frequently Asked Questions About Fostering
Q. WHAT IS A FOSTER HOME?
A. Foster homes are temporary homes for the dogs accepted into our rescue program. The foster parents care for the dogs as their own, but for a limited length of time - just until we find a permanent home for them. A length of time cannot be pre-determined. The foster home provides shelter, toys, treats, and human (and sometimes other dog and animal) interaction. Sometimes foster homes need to administer medical care, such as giving medicines, changing bandages, or applying salves or special shampoos.
Foster homes provide love, attention, food, water, and shelter for rescues. All foster dogs must live indoors (when the foster family is home) and be able to go outside for potty breaks. You have first hand knowledge of the dog's personality and any "quirks" and therefore help in assessing the dog to assure the best possible adoption for that dog's needs.
ALL rescued dogs are in foster care for a minimum of 2 weeks before being put up for adoption. This allows for a thorough personality assessment, as well as to allow healing from spays/neuters that usually need to be done.
No more than 2 foster dogs will be allowed in any foster home at a given time (except in case of temporary emergencies. "Temporary" means a week or less.) This includes foster dogs from other organizations. This is for the safety of all the foster dogs.
In general, no more than 3 owned dogs should be in a home where one of our dogs is being fostered. We want each rescue to get one on one attention and assessment, and if there are too many dogs already in the home, that one on one attention cannot be given.
Foster families are responsible for getting exposure for their fostered friend (taking the dog to pet fairs whenever possible, going out in public, etc.)

Q. WHAT ARE FOSTER HOMES RESPONSIBLE FOR?
A. Basically, Foster homes are responsible for daily care of the foster dog, including transport to & from the veterinarian for (approved) basic medical care, as well as:
* Feeding
* Exercising
* Socializing
* Brushing & Grooming as needed
* Reinforcing house manners and basic obedience commands, such as sit, stay, & come, and the dog should be able to walk on a leash, and take treats gently.
* Observing and evaluating general behavior and temperament. Working om areas that may need improvement.
* Writing the dog's bio & also provide photos so we can keep the website up to date.
* And, of course, providing love & security to a special German shepherd dog at an often difficult time in their life.

Q. DOES IT COST MONEY TO FOSTER?
A. Not really - we provide food and pay for the foster dog's Vet bills (pre-approval is required), medicines, medical supplies (salves, special shampoos, bandages, etc.), and provide the dog with all necessary vaccinations, a collar, and an ID tag. We also provide monthly heartworm preventative as a rule, and will also provide flea & tick preventative if it is necessary and we have the money or supply available. The only real cost you may incur is if you decide to provide toys and treats for the dog.
We provide on-going support for our foster homes regarding basic obedience training, crate training, medical questions, house training and much more.

Q. WHAT ARE THE DOGS LIKE?
A. When rescue dogs are first brought in, they can sometimes be shy or timid, or be starved for attention. Each dog has a different personality – some are outgoing and demanding, others take some time to warm up to you. Many of them will soak up love from you like a sponge.
Sometimes they are not housebroken (or may need time to adjust in a new environment) and some have minor behavior problems (no training, bad habits of some sort, etc.) When we accept a dog into our foster program, we give a first pass evaluation of the dog to be sure it has a temperament that will allow it to live in a home safely. Dogs that are uncontrollably aggressive towards people and/or are deemed dangerous are not accepted into our foster program. However, some dogs are not friendly towards other animals, and some dogs may not be good with children. If a dog in foster care becomes aggressive to an extent that the foster home cannot deal with it, we can remove it and re-evaluate it for placement.
We provide foster parents with advice and on going guidance on solving any behavior problems that might arise. We have a trainer that has agreed to work with our foster families for free, to help with basic training and/or problem solving.

Q. HOW LONG DO DOGS STAY IN FOSTER HOMES?
A. It's not possible for us to predict how long a dog will be in foster care before its permanent home is found. How quickly a dog is placed depends on a number of factors, such as physical beauty, age, health and training. There are also natural 'tides' in adoptions throughout the year.
For many dogs, we've found that foster families who provide basic training (obedience and good manners) to their foster dogs make those dogs much easier to place, and they tend to get adopted more quickly. Frequent updates in pictures and online profile descriptions of the dogs for the website help as well, so the foster family should try to send in updates as frequently as possible. Older dogs or dogs that have behavior problems the foster home does not work on with them tend to be in foster for a longer time.

Q. WHO FINDS THE ADOPTERS?
A. We are responsible for finding the adopters. The foster home takes care of the dog while we look for, screen, interview, complete homechecks, and approve permanent homes. We have many ways to find homes for foster dogs, and you may also want to, and are more than welcome to, help with this process – just let us know!

Q. DO I HAVE TO BE HOME WITH THE DOG ALL DAY?
A. No, most of our foster family members are currently employed full or part-time & still provide a quality environment for the dog. However, our first concern is safety: for you for your family, for your own dog(s) and for the rescue dog. Therefore, any time you are unable to directly supervise the foster dog, you should confine him or her to a small secure area, preferably a crate or baby-gated in a safe area of the house.

Q. DO I NEED A FENCED YARD?
A. We do prefer a safely enclosed area for exercise and bathroom but NO, a fenced yard is NOT absolutely necessary. However the rescue dog must never be allowed to run free. Outside of the house, the dog must be on a leash at all times and must have a collar on with the our identification tag attached.

Q. HOW MUCH TIME DOES IT TAKE TO BE A FOSTER
PARENT? A. From an hour or two a day to however much time you care to spend with the dog. The time you spend with the dog is a very important part of socializing him to new people & environments.

Q. WILL I BECOME ATTACHED TO MY FOSTER DOG?
A. Yes, you undoubtedly will - they bond quickly & give back so much in return for your care and attention. But when you meet the new family who's ready to provide a permanent, loving home for the dog you've helped rescue, you will feel more than satisfied to see the dog move on to a new & better life.

Q. WHAT IF I WANT TO ADOPT THE GSD THAT I'M FOSTERING?
A. Foster homes are given preference to adopt the dog they foster. However, please alert us as soon as you know that the rescue you have has found his forever home with your family so that we will not entertain other applicants for him/her. For highly adoptable dogs that may have several good candidates for adopting them, the foster home should make a decision and commitment to adopt their foster dog within 2 weeks. This assures the dog has the best chance to go to his/her permanent home as soon as possible.

ADDITIONAL INFORMATION:
Hominy Valley German Shepherd Rescue supplies the following to foster homes:
1) Monthly heartworm preventive (but due to limited funds, we cannot always provide flea & tick preventative)
2) Identification tag and collar
3) All food for the dog while it is in your care.

While in your care, we ask that you treat your foster dog as a member of your family, and give your foster dog LOTS of love and attention. You may need to help your foster dog with basic training that may include commands (like sit, come, down, stay, wait, leave it), crate training, and house training when needed. If you are uncertain about how to do anything, please let us know and we will get someone who can help you or direct you to resources that can help.