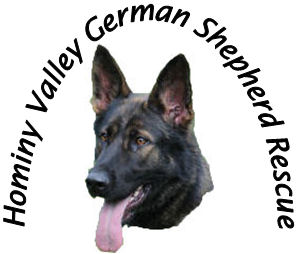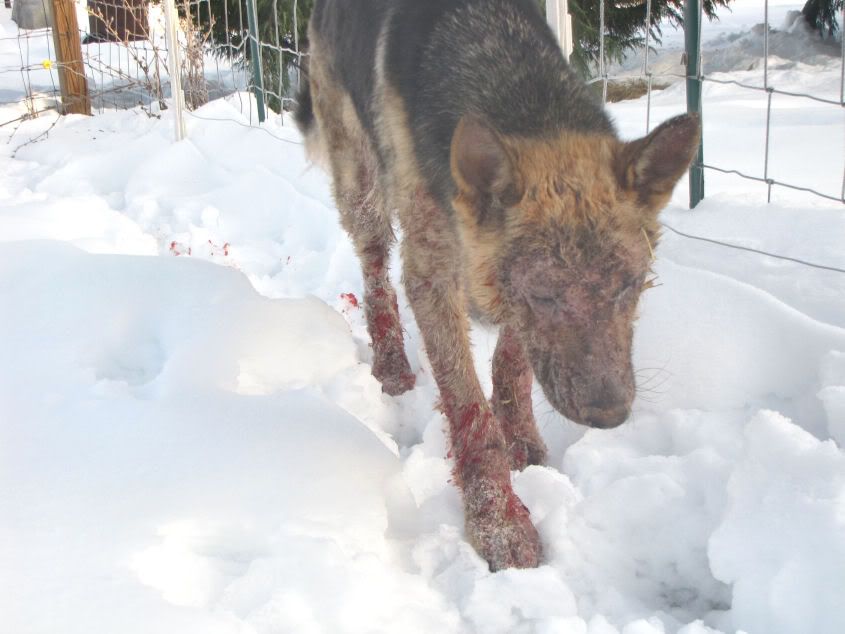 Zoey - December 23, 2009

We kept a photo diary of Zoey's progress, at http://s789.photobucket.com/albums/yy174/HVGSR/Zoey/. Click on the albums titled 'Week 1,' 'Week 2,' and so on (on the left side of the page when you click the link above) for updated pictures.
---
When Zoey was surrendered to us as a 15-month old, in December 2009, she had generalized demodectic mange (aka demodex or demodicosis) and two types of secondary skin infections because the demodex was not treated early enough.

Demodectic mange is caused by the proliferation of the demodex canis mite, which lives on almost all dogs. It is transferred from the mother dog to her puppies as they nurse during their first week of life.

Sometimes puppies will develop localized demodectic mange, which usually appears on the front feet or small spots on the face, and disappear on their own as the puppy's immune system grows and becomes stronger. However, dogs who have weak immune systems are not able to keep the mites 'in check,' so to speak, and that is when localized demodicosis develops into generalized demodicosis, which is what Zoey had.

Because this condition is caused by a suppressed or weak immune system, it is considered genetic and hereditary, and dogs that develop generalized demodectic mange should be neutered or spayed, and never bred, because they would pass along the weakened immune system to their offspring. Likewise, female dogs that produce puppies that develop this condition should not be bred again, and should be spayed. Responsible breeders have no problem doing this. Zoey's breeder refused to acknowledge that Zoey's condition occurred as a result of poor breeding practices, when he was contacted by Zoey's previous owners, and is likely still breeding Zoey's mother. He is located in the Upstate SC area.


Demodex canis as seen under a microscope
---
Zoey was about 15 pounds underweight when we got her on December 23rd, weighing only 55 pounds. Our Veterinarian did three skin scrapings on that day, which each contained hundreds of demodex mites of all ages. He said it was the worst case he's ever seen, and felt her prognosis was grim because of the condition she was in. No one thought she would make it even to Christmas, she was so sick.
For the first week, Zoey spent 99% of her time sleeping, and when we would wake her up to take her out to potty, she only just went through the motions. She was very depressed and in a lot of pain. Whenever she was awake, she was rubbing her face and front legs. Her bedding had to be changed at least twice-a-day because it would quickly soak up the blood and pus from her broken skin, and she smelled absolutely horrible from all the infection.
She was reluctant to eat at first, so we began by offering her cooking boneless chicken and rice. At first, she did not want to eat that, either, so we hand-fed her piece by piece for several days. It would take her 20-30 minutes to eat her meals.
A few days later, she was able to eat on her own and was put onto a raw diet (see below).
For the first three weeks, Zoey had to have a benzoyl peroxide scrub/bath every 3-5 days, which is akin to what burn victims must go through during their recovery process. It is very painful, but was prescribed in order to flush the mites out of her hair follicles and help kill the bacteria in and on her skin. After her 2nd Vet visit on January 13, the baths were decreased to once-a-week because her condition was greatly improved, and then stopped altogether once her fur was coming in good.

| | | |
| --- | --- | --- |
| Zoey, after 3 weeks of care - the 'spark' is starting to return to her eyes. | Zoey after 5 weeks of care - look at all that 'peach fuzz' coming in! | Zoey after 7 weeks of care - she is looking more and more like a normal dog. |
In addition to the raw diet, we gave her eNZYmes Pro+ and B-complex to build her immune system, and milk thistle to help support her liver function. She was also put on Inflight Coat Formula to help with hair regrowth.

Zoey is such a sweet, sweet dog who deserves much better than what she was put through. She was knocking at death's door when she was brought to us, but, after 12 weeks of care, made a full recovery and most definitely will be able to lead a normal life with her new family. As long as they keep her immune system strong by keeping her on a high quality diet and not vaccinating, she will be just fine. This is not a long-term disease in that respect.


After 10 weeks of care, Zoey is 99% mite-free!
Zoey with her new mom & dad, June 6, 2010. Look at all that beautiful fur!!
Zoey in September, 2010. She's now completely and fully recovered, and has a new little brother named Rebel to play with!
Zoey in December, 2010. Almost a year after we took her in and began treating her. She has come quite a ways from the first pictures we shared of her in snow. This is the last update we will share of sweet Zoey.
---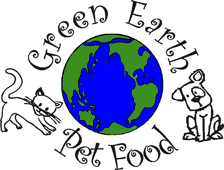 The owner of Green Earth Pet Food, a local company that produces completely balanced holistic, grain-free raw diets from organic, free-range meats and fruits/veggies, generously offered to provide Zoey with all the raw food she needed while she was recovering. The raw diet is the most perfect diet for dogs (and cats) because it is what they were designed by nature to thrive on. It helped build up her immune system and helped her fight the disease from the inside-out! We cannot thank Kristi enough for doing that for Zoey!
Please visit Green Earth Pet Food's website by clicking on their logo, to learn more about their products and where you can get some for your own pets! If you live in Candler, you can purchase Green Earth Pet Food at Moondoggies Natural Pet Foods, which is located on Smokey Park Highway next to Candler Feed & Seed.
---