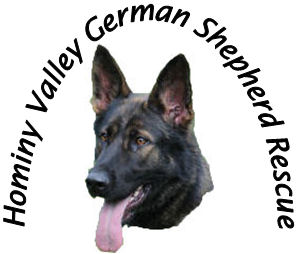 ---
Frequently Asked Questions
Q. Why do you ask so many questions on your adoption and foster applications?
A. We love the breed and are multiple shepherd families ourselves! But we also recognize that German shepherds are not the perfect breed for everyone. Because these dogs have lost their original homes - for whatever reason - we want their new home to be a permanent home. We want loving forever homes that are committed to making the adoption work. We ask lots of questions because we want to make sure that you get the right dog for you!
Q. Will an adult dog bond to me as well a puppy?
A. ABSOLUTELY! Adult dogs are usually very aware that they have been "chosen," and are grateful for their loving new home. They are likely to follow their new pack leader(s) devotedly, and will show great affection for their new pack members. Sometimes, they might carry along with them a few habits from their original home but with patience and good training, these can be changed. German shepherds, by nature, bond very tightly to their families, regardless of their age.
Q. Why are all your dogs spayed or neutered?
A. All dogs placed through us are required to be spayed or neutered because of the extreme number of dogs in shelters and rescues - both mixed and purebred. The German shepherd dog is a popular breed, which means that there are a lot of homeless German shepherds. Too many dogs, purebred and mixed-breed, are put to death every year simply because there are not enough homes for all of them. Many purebred dogs give birth to or father mixed-breed puppies. By spaying and neutering, we help keep the surplus population of dogs down. Our goal is to reduce the high euthanasia rate of perfectly healthy and adoptable dogs.
Q. One of your rescue dogs is perfect for me! Can you hold him for me till I am ready to adopt?
A. Sorry, but we cannot 'reserve' dogs. It is not fair to the dog should another family come along that is equally as well matched. Likewise it is unfair to the foster home and to another needy dog who can not be saved because our foster homes are full.
Q. Are your dogs healthy?
A. Every dog we take in is fully vetted before being placed into foster care and up for adoption. This includes a stool check, de-worming (if necessary), heartworm test, all necessary vaccinations, and any other test or procedure our Vets feel is needed. All of our dogs are microchipped as well.
We always try to do what is best for the dog, no matter what it costs us. Of course donations towards our veterinary expenses are always needed and gratefully accepted.
Q. What do I do if I have to give up my dog? Can you find him a good home?
A. If you are no longer able to care for your German shepherd dog and wish to ensure that it finds a new home where it will be loved and cared for, you will need to complete an Owner Surrender Request. It is important that you answer all the questions honestly so that we may better assess your dog's needs and match him with the perfect forever family.
Unless we have an open foster home, you will need to continue to care for your dog until a suitable new home can be found. Of course there are exceptions but the first step for you is to complete the Owner Surrender Request. We will help you and your dog if we possibly can.
Q. What's wrong with offering my dog in a FREE TO GOOD HOME advertisement?
A. People value what they pay for. Pets obtained for free are are less likely to be spayed or neutered by their new owners (why bother with Vet bills?), and more likely to be abused and/or discarded, because "there are plenty more where that came from!" A recent study at one animal shelter yielded the startling statistic that 41% of all owner-surrendered dogs had been obtained "Free to good home." There are many other absolutely horrifying reasons that this is a bad idea if you care about your dog. Read more here.
Q. Where do your dogs come from? Why are they in rescue? Does that mean they are defective in some way or won't make good pets?
A. Dogs are taken into rescue for two basic reasons. First is the stray or abandoned dog that we pull from kill shelters, and we never know why most are there. Sometimes the dog is sick, sometimes people do not monitor their pets and they escape. Maybe the fence isn't tall enough; maybe they left their German shepherd unattended in a backyard and a gate was open. Regardless, these reasons are not the fault of the dog, but the fault of negligent owners.
The second reason is owner-surrender, and normally this is because of a life-style change of the owner. Maybe they are relocating and can not take their German shepherd with them; possibly they have a job change and can no longer spend time with him; or maybe they are getting married and no longer feel that the dog will fit in, or the spouse does not like or is allergic to dogs. Now with the economy the way it is, more and more good dogs are becoming victims of the real estate and foreclosure crisis.
We also occasionally help with breeder referrals. These are retired show dogs or obedience dogs, or sometimes youngsters that didn't progress as planned, or even dogs that have been returned to the breeder for some of the same reasons we get owner surrender. These dogs are healthy well-bred dogs and just need a family of their own.