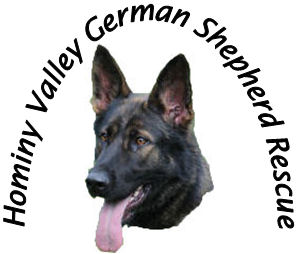 ---
Unfortunately, as of April 2011, we have had to temporarily shut down all adoption and placement activities, other than cross-posting, due to some personal issues that the owner is going through. We are currently moving to a temporary, but long-term location, and hope to resume full operations next year.
We are asking for some help from our supporters. We have purchased an 18' x 21' carport to put our kennels under, at the temporary new location, to keep the dogs out of the weather. The cost for this carport was $748.86, from Mark's Buildings & Carports in Candler, NC.
We also purchased a roll of nylon matting to keep the dogs from being able to dig out, and to make it easier to keep the kennels clean and sanitized (vs. the bare ground). The cost for this roll was $270, for a total spent of $1,018.86. To donate towards the cost of the carport and kennel flooring, please click the donation button below. We thank you in advance for any amount you can give, no matter how small.
---
Zoey, a Special Case
From this: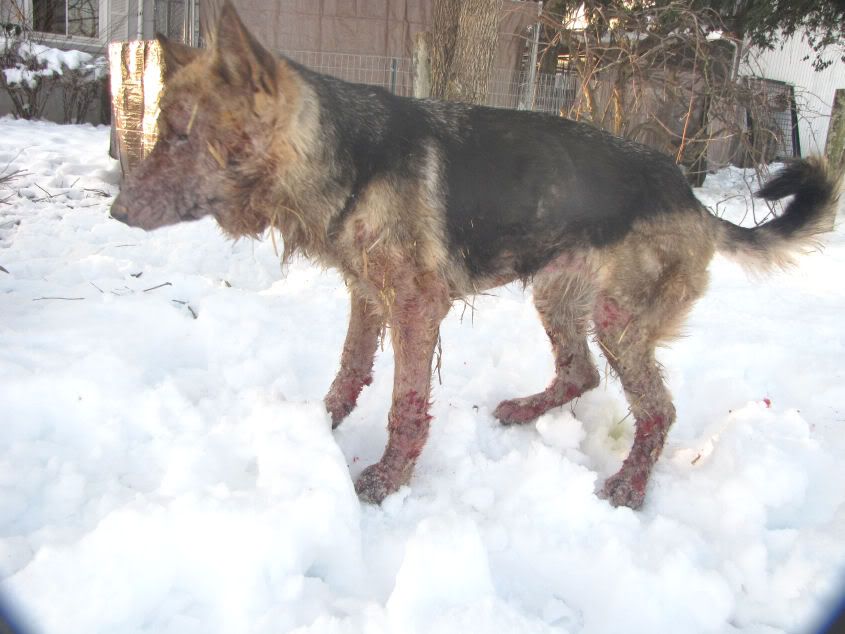 To this: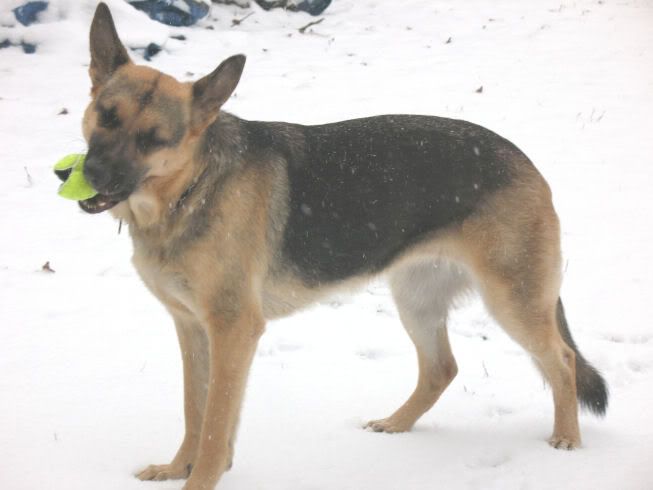 This is Zoey. She was surrendered to us on December 22, 2009. Her owners could not afford the medical care she so desperately needed.

To read more about Zoey, CLICK HERE to go to her page. There, you can find out what happened to her, how she was successfully treated, and see pictures of her with her new adoptive family!
---
Who We Are


Hominy Valley German Shepherd Rescue (HVGSR) is an American Kennel Club (AKC)-recognized breed rescue organization that was formally begun in April of 2009 as a means of helping German shepherd dogs (and high mixes) whose owners could no longer care for them find new homes.
We realize that sometimes circumstances dictate that one must make the decision to give up their pet. If you would like to inquire about surrendering a dog into our care, please fill out the Owner Surrender Form and e-mail or mail it to us. Please include a few good pictures of the dog - a good face and side view, at the bare minimum, and a brief description of his or her personality and temperament.
We are also willing to take in dogs that might be suitable for training as service/assistance dogs for the handicapped, search & rescue, detection (narcotics or explosives, for example), or law enforcement apprehension dogs. Please contact us if you believe your dog might be suitable for such a job.
If you have found a dog roaming loose, please contact the Asheville Humane Society at 828-253-6807 during normal business hours, or Buncombe County Animal Services at 828-252-1110 (in city limits), or 828-253-1195 (outside city limits), to file a found report. You should also take the dog to a nearby Vet or to the shelter so that it can be scanned for a microchip. We can scan dogs as well, but by appointment only.
---
!!How You Can Help!!
There are several ways you can help HVGSR save German shepherds from certain death and get them placed into forever homes. You can temporarily foster a dog for us, you can adopt a dog from us, or you can buy apparel and gifts from our online stores located at http://www.cafepress.com/HVGSR (for items featuring our logo), or http://www.cafepress.com/GSDcartoon and http://www.cafepress.com/Sharingcartoon (for items featuring a 'Draw the Dog' cartoon).
You may also buy pet supplies from one of the following businesses, which donate a portion of their proceeds to us whenever you make a purchase! You must use the links from this page, however, so that they will know that you want them to donate to us when you check out!

Every dog that is adopted goes
home with a sample product
from US Bones


At checkout, don't forget to choose
Hominy Valley German Shepherd Rescue
Use coupon code First10 for 10% off!!
In addition, 10% of every pet supply and $1 for every pet
medication you purchase is donated directly to us!
We are now selling free-range grass-fed Brazilian bully sticks, cut to order, starting at just $0.50 per inch! Because of the demand, orders must be placed a few days ahead of time in case we don't have enough in stock to fill your order. Lengths from 4 to 36 inches available! Shipping is also available, at the lowest possible rate we can get for the size(s) you want. Contact us to order! Dogs LOVE these, and they last longer than anything except real bones!

Other similar items, such as trachea, gullets, hearts, ears, and jerky from various animals are also available.
---
Foster Care


We are not a shelter and do not have a kennel facility. Dogs in the care of HVGSR are kept and cared for by wonderful foster families who are willing to open their homes and lives up to these dogs until the perfect adoptive family comes along. Dogs who are fostered in home/family environments tend to make the transition to their new forever homes much more easily than dogs in shelters or kennel environments. While it is not required of them, foster parents often take the time to teach the dogs some basic obedience and housebreak them if they need it, which makes them more appealing to potential adopters.

HVGSR is always in need of new foster homes; the more foster homes we have, the more dogs we can save from being euthanized. We could not operate without our foster families!

All food and necessary vet care for foster dogs is provided by HVGSR!

For more information about what is involved with being a foster home, click here.

To apply to be a foster home, click the button at the top of the page to fill out the application, and a representative of HVGSR will get in touch with you to talk a little more about what type of dog you are able to help. The questions we ask are to help us place the right dog into your home.
---
Adopting a dog from HVGSR
Click the 'Adopt a Dog' button at the top of the page to fill out an application.
HVGSR's adoption process is fairly simple. First, we require an adoption application be filled out, and then we arrange for you to come and meet the dog(s) that you are interested in, and/or the dog(s) that we feel would be the best match for you. If this meeting goes well and you would like to adopt the dog, then we will schedule a time that we can bring the dog to your home. If you would prefer to be able to take the dog home with you that day, then a home check will need to be done prior to your visit with the dog.
Because of our limited capacity to bring new dogs in based on available foster homes, we might not have a suitable dog for you when you submit your application. However, we are contacted daily (no, that is not an exaggeration!) by owners and shelters. If we feel that one of these dogs would be a good match for you, based on the information you give us on your application, then we can commit to that particular dog just for you, where otherwise we might have to turn it down for lack of available space.
Our adoption fee is $200.
The adoption fees pay for the dog's initial wellness exam, fecal, heartworm test, microchip, spay/neuter surgery, all necessary vaccinations, deworming, flea/tick/heartworm prevention while the dog is under our care, and a bath & nail trim before going home with you. Purebred dogs may or may not come with papers, depending on whether their owners give them to us when they surrender the dog.
For more information on adoption fees, click the button at the top of the page labeled 'Adoption Fees'.
---
Low-Cost Microchips
Even if you did not adopt your dog from us, we are still happy to microchip him or her for you. We use 24PetWatch microchips. The cost is $10 per chip.
We can chip your pet by appointment, if you wish, and we hold public microchip clinics at Moondoggies Natural Pet Foods in Candler, North Carolina once-a-month.